I am so excited to announce that I am participating in my first ever Blog Hop! This a great way to see more wonderful recipes and meet more foodies! Can you believe the first challenge was CHOCOLATE CAKE?!  It just seemed too good to be true! This seems to be a great blog hop and I am so happy to be a part of it!  Tina at Mom's Crazy Cooking http://momscrazycooking.blogspot.com/  has a great blog and you should all check her out!  You too can join the Crazy Cooking Challenge!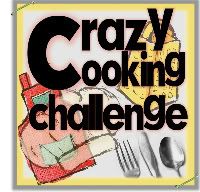 This is such fun and it helps highlight a blogger that you might not have stumbled upon in the past.  I have to give a big shout out to TWO different bloggers in aiding me in the Chocolate Cake!  Chic Gorgeous http://www.chicgorgeous.blogspot.com/  and The Savory Sweet Life http://savorysweetlife.com/  If you have never seen their blogs please hop over to them and you will be as addicted as I am!
I named this Cake The Sexiest Chocolate Cake you have ever eaten, just my little nod to Valentines Day! This is one Crazy Decadent over the top Chocolate Cake.  I am talking Dark Chocolate Cake, Chocolate Butter Cream Frosting, Fresh Raspberry layer, Dark Chocolate Ganache, Vanilla Bean Whipped Cream, Dark Chocolate Covered Strawberries!!  This would be the perfect cake to make for your Romantic night! Just imagine your sweetie feeding you one of the decadent Dark Chocolate covered strawberries with a bit of Vanilla Bean Whipped Cream….. Hmmmmmm  Now that is true Love!
| | | |
| --- | --- | --- |
| The Sexiest Chocolate Cake you have ever eaten! | | |
Author:
Ingredients
For the Cake:
3/4 plus another 3/4 cup Dutch Process cocoa powder
1 1/2 cups ap flour
1 1/2 cups sugar
1 1/2 tsp baking soda
3/4 tsp baking powder
3/4 tsp salt
2 large eggs
3/4 cup warm water
1/2 cup milk (I did use whole on this one occasion)
1/4 cup sour cream
1/3 cup melted unsalted butter
2 tsp vanilla
1 pint fresh raspberries (macerated with 2tbs sugar and 1 tbs water)
For the Chocolate Butter Cream Frosting: (double for layered cakes)
1 cup unsalted butter room temp
3-4 cups powdered sugar
1/4 tsp salt
1 tbs Chocolate Extract
4 tbs whole milk plus more to make your consistency
For the Ganache:
1 package Dark Chocolate Chips
6 tbs unsalted butter
1 tbs dark rum
For the Vanilla Bean Whipped cream:
2 cups heavy whipping cream
1/4 cup sugar
1 vanilla bean scraped of seeds or 1 tsp vanilla bean powder
Instructions
For the Cake:
whisk dry ingredients
in a stand mixer add the eggs, water, milk, sour cream, butter and vanilla extract
beat on medium till no lumps are left.
pour into prepared 9″ round pans
bake at 350 for 35-40 min
For the Frosting:
Beat the butter
add the sugar and mix till combined
add extract, salt, 2 tbs milk
beat for 3 min
then add milk 1 tbs at a time till desired consistency is reached
I tinted this pink for Valentines Day
For the Ganache:
Over medium low heat in a sauce pan melt the Chocolate Chips and butter.
Let cool slightly before you pour over cake
For the Vanilla Bean Whipped Cream:
Freeze bowl and whisk
whisk the cream, sugar and beans till stiff peaks form on high
To Assemble:
Once the cake is cooled COMPLETELY I slice off the tops to make for perfectly even layering pieces.
Spread a layer of frosting on top of the bottom layer and spread raspberries
place second layer of cake on top
I like to frost my sides first and then the top (I know that most of you do it the other way but I get it smoother this way)
Chill the cake
pour the ganache slowly on top and let drip down the sides
dip the strawberries in extra chocolate
pipe the whipped cream all along the bottom and make a ring of "stars" on the top of the ganache
place a strawberry on every other whipped cream star
chill and then slice and serve!
Believe me when I say this is a Labor of Love to make this cake.  Don't expect to whip it up last-minute notice.  There is alot of down time waiting for things to cool down or chill or set up.  I made this cake over 2 days. I baked and frosted the first day and topped it the second day.  It is SOOOOO worth the effort! Now please Check out all these other great Chocolate Cake recipes!